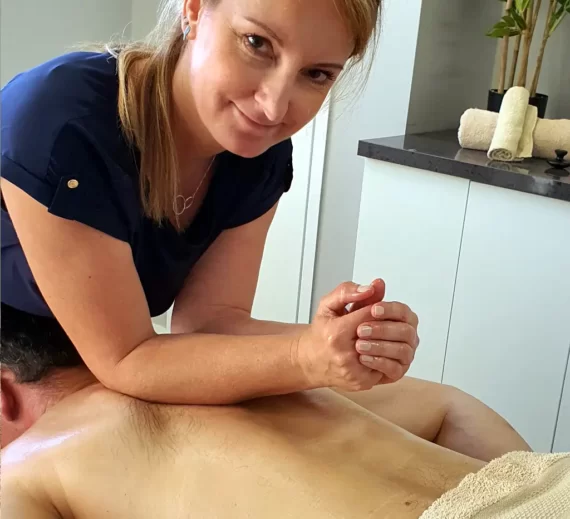 Remedial massage is a supplemental therapy performed to treat injured, tight, or stiff muscles. It can help with many issues associated with muscles, tendons and bones, in addition to various other ones.
Locating and repairing injured body parts, as well as accelerating the body's natural healing processes, is what remedial massage best helps with. Depending on the situation, the pressure used in this healing procedure can be either powerful, deep, moderate or shallow.
Other sections of the body may experience discomfort that originates in or radiates from muscle problems. Remedial massage targets both the underlying source of the issue and its symptoms in an effort to identify the initial cause of the discomfort.
Who Is Remedial Massage For? 
Remedial Massage is best for people who suffer from:
General injuries
Shoulder & back pain
Chronic pain
Headaches
Fatigue
Anxiety & depression
My Process
Before I begin the process, I make sure you are highly relaxed and comfortable with the environment. I like to get to know our clients at a much deeper level to make them feel at home. This is why I take an interest in talking about your health and your lifestyle first.
Next, I will guide you towards a massage table and ask you to lie down. I use creams and oils to massage your skin until it is smooth. 
The real fun begins when I start performing magic with my hands. I use a variety of methods and techniques to identify and relax the stiff muscles and any areas of pain. They will thoroughly penetrate your muscles and stretch various parts of your body to get you the relaxing and soothing feeling you are looking for. 
Benefits of Remedial Massage
Stimulates Blood Flow
Remedial massage stimulates the circulatory system, promoting blood flow to the areas being treated, which aids in accelerating tissue repair and healing.
Relieves Pain & Injuries
Remedial massage has a great deal of success in reducing pain from both acute injuries and chronic diseases. Every few weeks or once a month, getting a maintenance massage can be very helpful in managing your discomfort.
Reduces stress
The ability of remedial massage to reduce stress is yet another fantastic advantage. Cortisol levels (the hormone produced when we are stressed and in pain) can drop with therapeutic massage. Serotonin and dopamine levels are elevated during massage therapy, which helps with mood enhancement, relaxation, and pain relief. Both physical and emotional tension is lessened by massage.
Relieves Tight Muscles
If you are suffering from tight muscles, I will employ trigger point treatments, as well as stretching techniques, to lengthen those tight muscles. Plus, it can also aid in removing adhesions like scar tissue that may have developed following an injury.
Treats A Variety Of Health Disorders
Remedial massage is highly beneficial for treating conditions like whiplash, frozen shoulder, arthritis, and sports injuries. It can also be beneficial for people with conditions such as multiple sclerosis, cerebral palsy, muscle atrophy, sleeplessness, anxiety, or chronic pain.
Choosing The Right Remedial Therapist
It's essential that you choose a massage therapist who is professional and with whom you feel at ease and safe. To ensure they are adequately trained, always seek out therapists registered with massage associations like the Association of Massage Therapists.
At Magda Clinic, our owner Magda is registered with the Association of Massage Therapists. So, if you want to experience a soothing and relaxing remedial massage, contact the clinic today.